I am so happy to be visiting over here while Becky is enjoying time cuddling with her sweet baby girl! Let me introduce myself first and then I'll introduce you to these amazing lemon sugar cookie bars! I'm Aimee from Like Mother, Like Daughter. I'm the daughter half of the blog, that I share with my mom – where we share our favorite recipes, restaurants, food products and more. I hope you'll visit us over there to see some of our delicious recipes!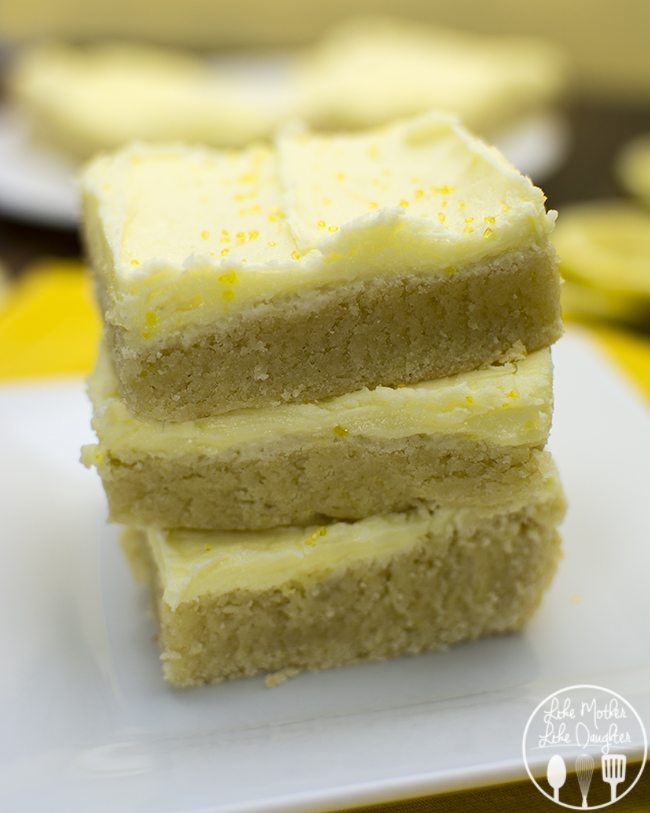 These lemon sugar cookie bars came about, after I made a simple sugar cookie bar recipe. I discovered how easy sugar cookie bars are too make, and I just knew a lemon version would be amazing too. And I think its the perfect spring treat.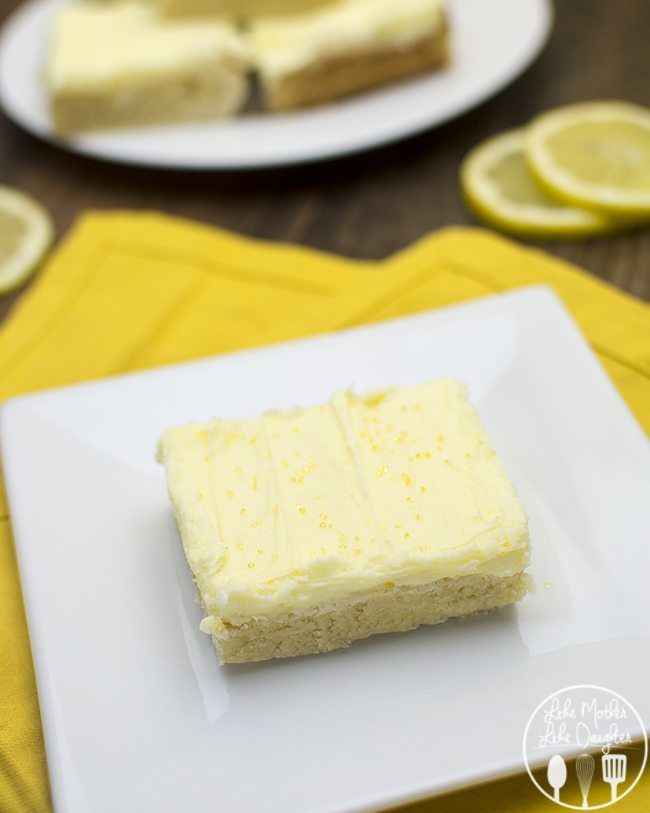 The refreshing lemon taste is just perfect in these cookie bars. And another great thing about these is they're so easy to make – because instead of rolling out the dough and cutting it into cookies you just press it into a baking pan, so simple!

Lemon Sugar Cookie Bars
Ingredients
For The Cookie Bars:
2 ½ cups all purpose flour
½ tsp baking powder
½ tsp salt
½ TBS lemon zest
½ cup unsalted butter, softened
1 cup sugar
1 large egg
1 TBS sour cream
1 tsp vanilla extract
1 TBS lemon juice
For the Lemon Frosting:
5 TBS butter, softened
2 TBS lemon juice
1 TBS lemon zest
1 TBS milk
1 TBS vanilla extract
4 cups powdered sugar
2 drops yellow food coloring
Instructions
Preheat your oven to 375 degrees.
In a medium sized bowl, combine your flour, baking soda, salt, and lemon zest. Set bowl aside.
In a large mixing bowl, cream together your butter and sugar for about 3 minutes until light and fluffy.
Add in your egg, sour cream, lemon juice, and vanilla and mix till combined.
Press your batter into a greased 9×13 dish and spread it out evenly with your hands or a rubber spatula.
Bake your sugar cookie bars for 15-17 minutes or until the edges have just started to turn golden.
Allow cookie bars to cool completely.
Mix all your ingredients together for your frosting until creamy. Add in more powdered sugar or milk if needed for the texture.
Spread your frosting evenly over your cooled cookie bars.
Cut into squares and serve.

If you like these lemon sugar cookie bars, I think you'll like these other recipes too: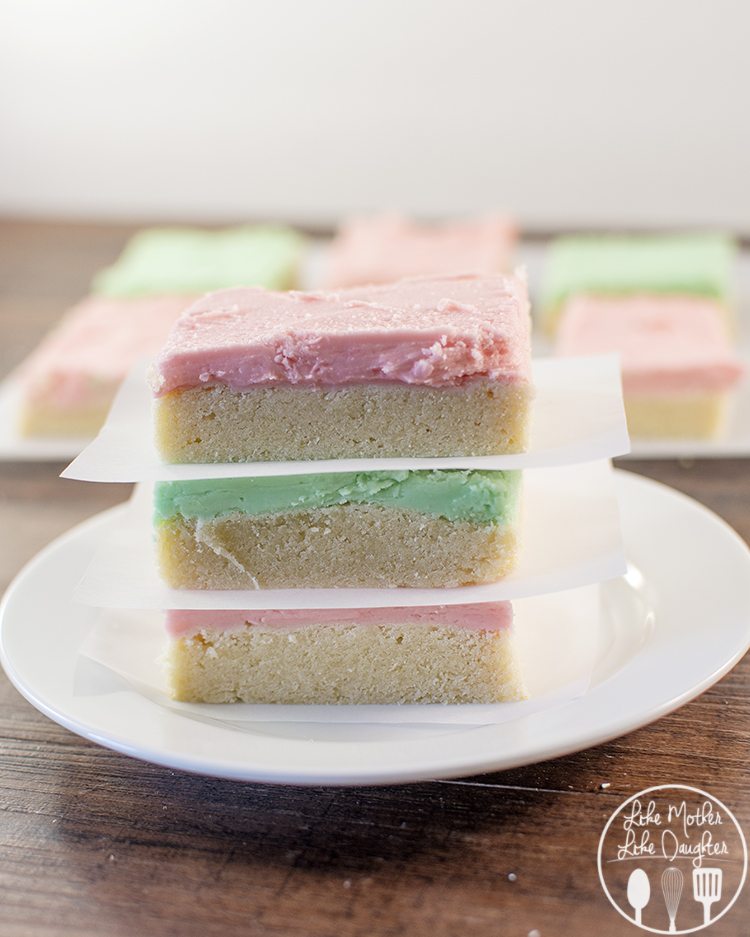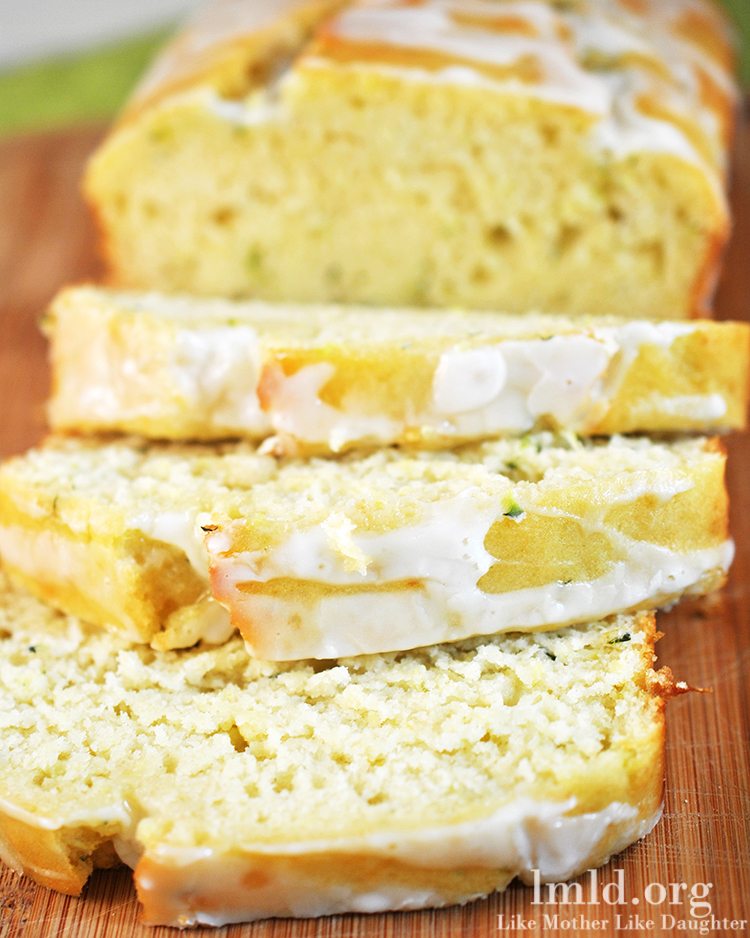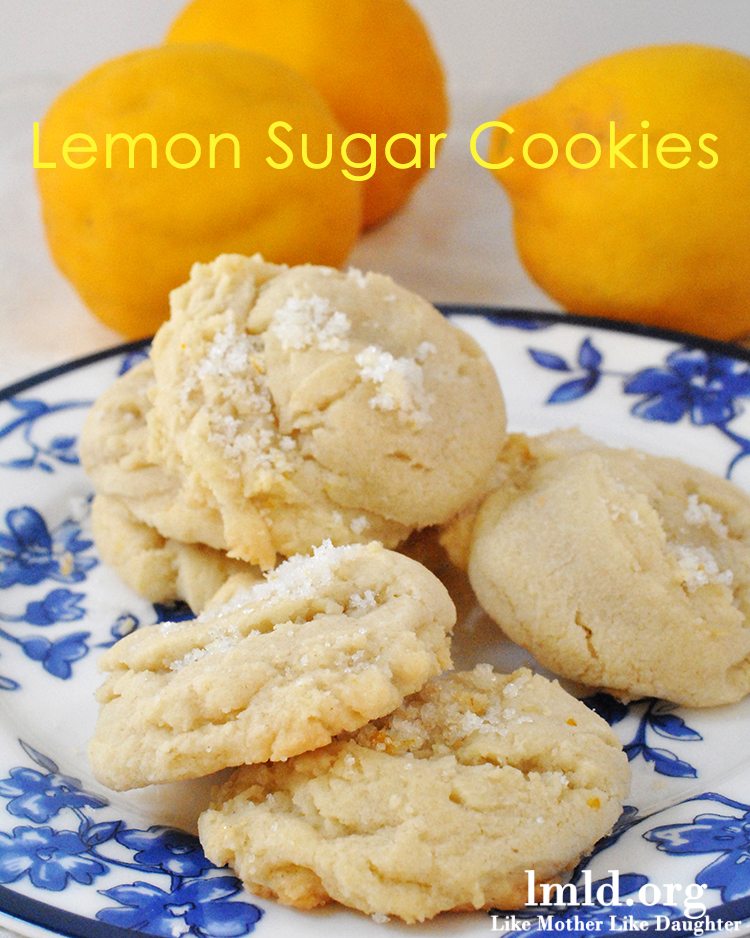 And be sure to visit us on Facebook – Pinterest – Twitter – and Instagram!
And thanks for having me Becky! Good luck with your little one, she's adorable!!